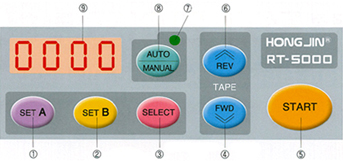 Control panel

¨ç SET A : Adjust the tape length(cm)

¨è SET B : Adjust the tape length(mm)
- Change the operating mode in P or L
- P : Auto,Manual
- L : Continuous operation

¨é SELECT : Set the tape length & cut piece
figure,operate P,L mode

¨ê FWD(forward) : feed the tape toward

¨ì START : Feed tape and cuts automatically or manually

¨ì REV(reverse) : Rewind the tape away from cut area

¨í Lamp : Displays in the auto mode

¨î AUTO/MANUAL : Change the operating mode in auto or manual

¨ï LED : Displays the length of the tape, keeping on operating mode.



Specification

* Display : 4 Digit LED

* Width : 5~50§®

* Length : 5§® ~ 999§®

* Tape transfer roller :DC motor

* Power source : AC 100/200V 50/60Hz ,25w

* Size : 115§®¡¿215§®¡¿130§®

* Weight : 3.0§¸



Major Functions

* Non-adhesive product can be used.

* Built-in tweezers for cutting short tapes.

* Tape feed and cutting speed are 1.5 times faster than the
existing products.

* A cabinet-type without tape hanger, which enables the use
of any type of the tape reel.

* One-touch exchangeable knife set makes it possible change the blade at outside by anyone.

* Lubricant is automatically applied to the knife edge.

* Self-diagnosis displays error and generates a buzz on emergency.

* Quantity counter function helps cut shortage tubes, labels, ribbon, etc. by adjusting the quantity and the length.